About Us
Bear Creek golf course believes in environmental stewardship. The putting greens are the only areas that regularly receive chemical additions (like fertilizer) and we always use the least amount possible! The fairways are chemical free along with the rest of the course.
Situated in the beautiful Methow Valley, Bear Creek Golf Course lies north of Twisp and southeast of Winthrop on the old Ortell cattle ranch. In 1948 Herman Court, an ex-Seattle fireman purchased the 480-acre Ortell spread at the base of Studhorse Mountain. Court started thinking about a golf course in 1952. Actual construction began in 1965. He built 3 holes which folks played 3 times around. They purchased a punch card for $25 which was good for 25 rounds. Court started with a rough three-hole layout. By 1969 Bear Creek had developed into a regulation-length nine. Herm turned the facility over to his son Ashley in 1982. After 25 years it was time to retire, so the course was sold in 2007. May of 2012 the golf course was bought back by Ash and Linda Court.
Bear Creek's playing conditions have greatly improved over the years. The most recent improvement is a new #7 green, adding 50 yards. The course extends 6271 yards over two circuits. A creek lines the left-hand side of #8. A bunker greets the ball of the long-ball hitter. The creek follows along #9, while trees catch the right-hand side. A green-side pond waits silently on the 2nd hole - a ball collector for some, a thrilling hole-in-one for others.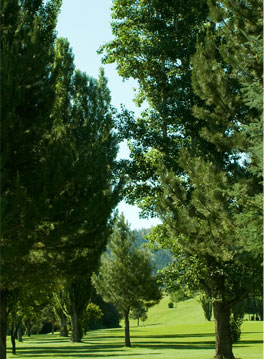 The 3rd hole, a 390-yard par 4 dogleg left starts at an elevated tee offering opportunity to shortcut over trees or play safely in the fairway. Bear Creek's 4th is a 538-yard par 5 with a long and wavy left-bending fairway outlined on the right with budding trees and on the left with a scraggly rough and a hill. A pond-like bunker fronts the right-front edge of the bi-level, left-sloping 4th green. The top rated 5th hole a 419-yard par 4, ventures off a panoramic elevated tee and concludes at a left rear sloping green fronted by a depression. The newest addition of tees on #17 & #18 require a straight shot through a tunnel of trees.
This pastoral venue is serene. The dual-tee set-up, which in the early days used mats, now has grass tees. Many of Bear Creek's tees are elevated. Nearly every hole affords views of the nearby Sawtooth Range and Pasayten Wilderness area. Hole #5 and #7 give a picturesque view of Mt. Gardner.
Local wildlife includes deer, bear, moose, cougar, coyotes, and upland birds.
Many have had the pleasure of timing their walk up the #3 cart path to spot a turtle burying her eggs.
"The Methow Valley's Bear Creek Golf Course close by Winthrop is quite possibly the best nine hole golf course in the state. While you might be playing the same greens on the back nine, you have to approach the holes with your drive from teeing areas widely separated from the front side. It makes for extremely interesting golf. Now, add hills, gullies and water to the equation and you have a challenging track. All this plus spectacular mountain scenery and generally favorable weather Bear Creek adds up to an unbeatable golfing experience. Just one thing more: The 1st hole is the best opening hole one could ask for - wide open and not too long. It just says: "Go ahead and whack it friend, but I'll get you on number 5" - Bob Cram.